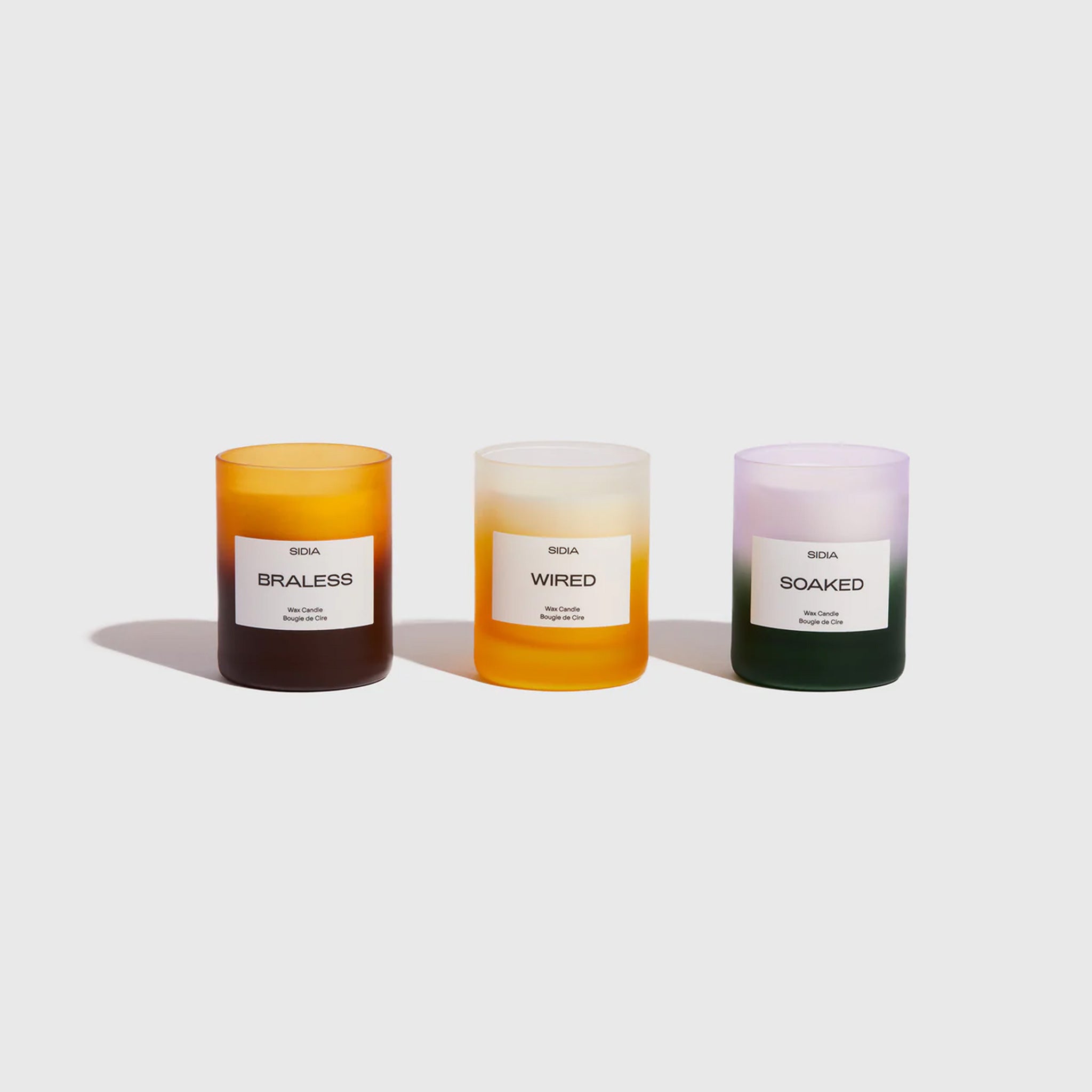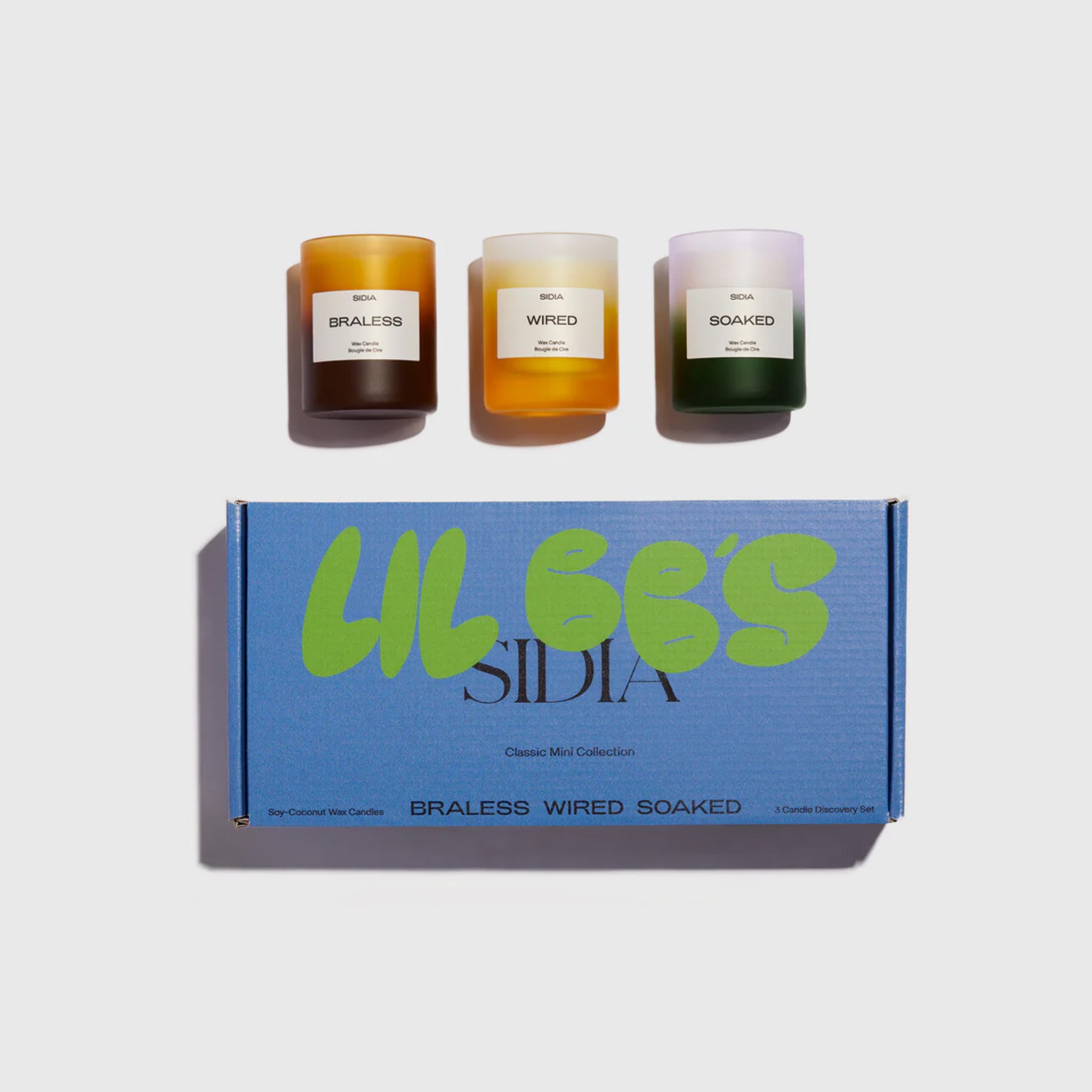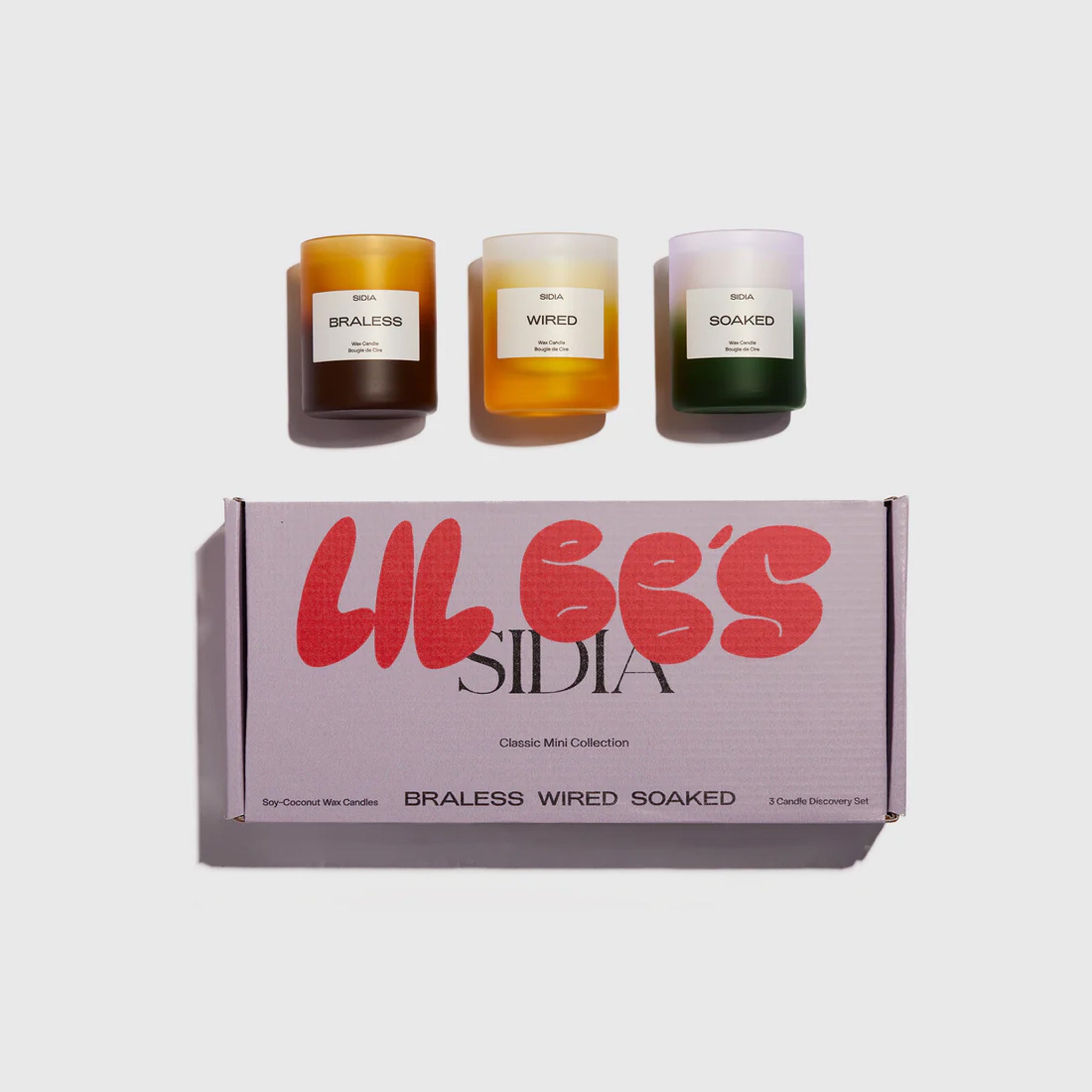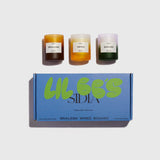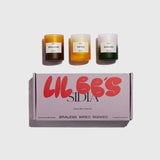 The Lil' BB's: Mini Candle Set
Description

Brand

Info

Sizing
Meet the LIL BB's.

Discover SIDIA's best-selling candles as LIL BB's complete in their own custom packaging for effortless gifting (or something fun to open when it arrives at your doorstep).
Each mini candle is 60g/2.1 oz. Normal sized candles are 8 oz / 240 g (for comparison).
BRALESS invites you to strip back the layers of the day, in surrender to the ultimate unwind.

TOP NOTES
Soft Spices, Bamboo, Leafy, Clove, Coconut Cream

MIDDLE NOTES
Cedar, Thyme Blossom, Amber, Rose, Violet

BASE NOTES
Guaiac Wood, Patchouli, Sandalwood, Cashmere Musks, Oakmoss, Leather
SOAKED is a tribute to the meditative magic of morning times, a misty space for conjuring up fresh visions and finding our way back to life's little wonders.
TOP NOTES: Grapefruit, Spearmint, Thyme, Juniper
MIDDLE NOTES: Jasmine, Citrus, Cypress, Cedar Leaf
BASE NOTES: Patchouli, Sandalwood, Pine, Fresh Musks
WIRED is the bright-eyed burst of clarity that grounds your first fresh breath of morning air.

TOP NOTES
Citrus Peel, Ginger, Cool Mint, Bergamot

MIDDLE NOTES
Eucalyptus, Tea Leaves, Rose Petals, Matcha

BASE NOTES
Tobacco, Sandalwood, Tonka
Clean, luxe, efficacious body care + fragrance that invite you to care as hard for yourself as you do the world around you. Inspired by the legacy of the family matriarch, SIDIA develops formulas and fragrance that liberate the senses. Designed to invoke the feeling of being at ease, we're redefining what it means to reconnect with yourself as you move through your world and home. SIDIA is proudly based, formulated & designed in Toronto, Canada.
Estimated 50 hour Burn Time
Care: We recommend trimming the wick to a 1/4 inch, to reduce debris in the candle for a safer burn. Burn the candle for no more than 4 hours at a time, and cease use when there is 1/2 an inch of wax remaining in the vessel. Repurpose the vessel by freezing the candle for a few hours, before removing and discarding any remaining wax (this ensures an easy removal). Clean with soap and warm water, and enjoy your new and functional decor (display on a bathroom vanity, or use as a trinket or plant holder).
Measurements: 60g / 2.1 oz each mini candle
Fabrication: Soy Coconut Wax Blend and Lead-Free 100% Cotton Wick
Made in USA.
---
---
Free shipping on orders over $120
The Lil' BB's: Mini Candle Set