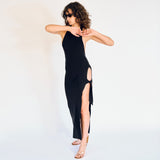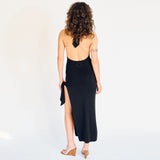 Description

Brand

Info

Sizing
Knits by Simon Miller are elevated and comfortable, yet chic and sophisticated for the working creative. This nylon viscose yarn fabric is compact but lightweight. Wash it and dry, just try it. This best-selling knit halter neck dress with side slit and knot detail is an easy fashion must for the summer.
Simon Miller's Chelsea Hansford presents a collection inspired by the elusive, evolving spirit of American craftsmanship, drawing on the natural textures of the American Southwest while celebrating modern, advanced techniques. Primary colors, asymmetrical cuts and optic print motifs sourced from another era breathe life into classic denim and knit silhouettes. The brand's offering subtly nods to its Los Angeles roots, imparting through its leather accessories and treated fabrics the peculiarities of the city's charisma.
Care:
Measurements:
Fabrication: 65% viscose, 35% nylon.
---
---
Free shipping on orders over $120