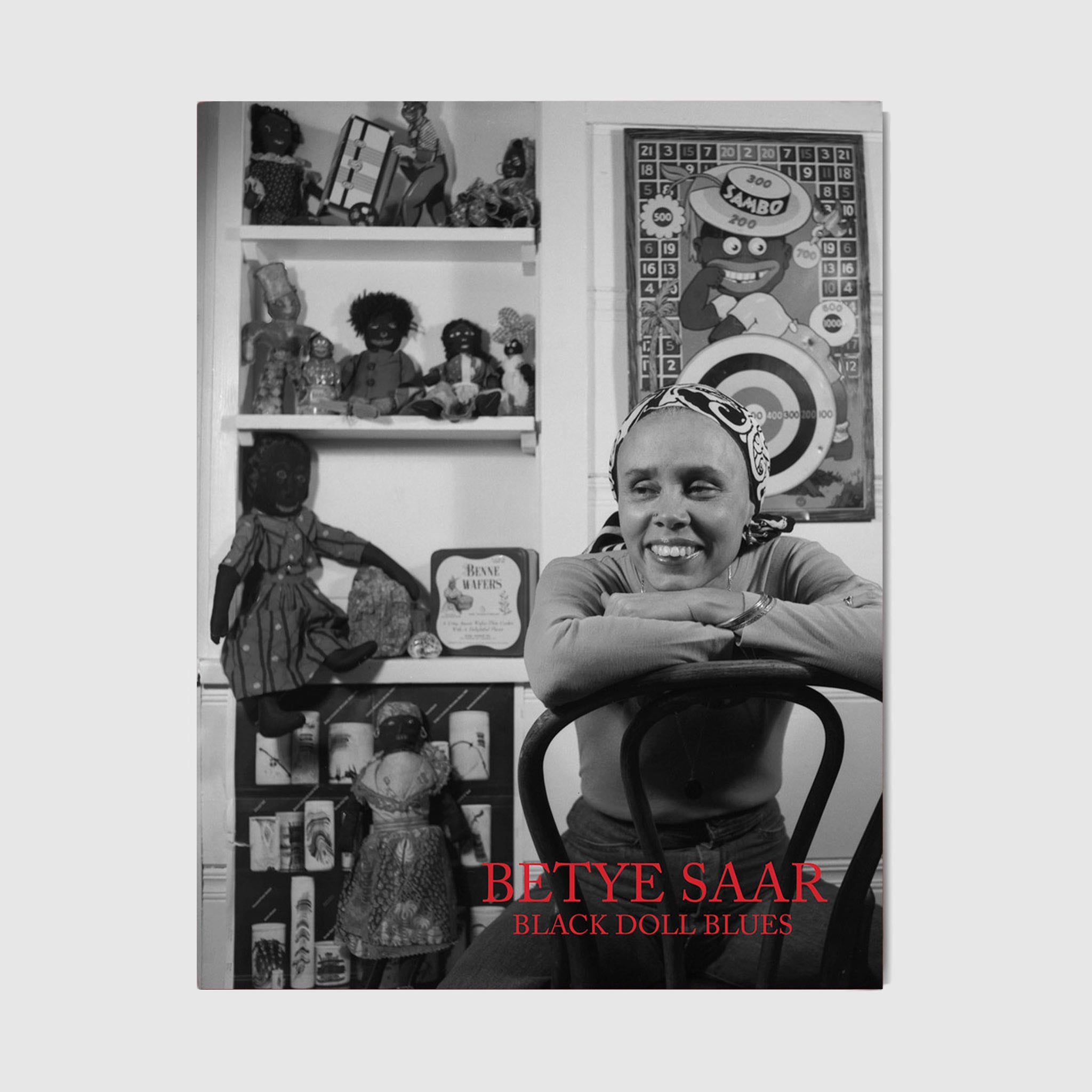 Betye Saar - Black Doll Blues
Description

Brand

Info

Sizing
An investigation into Saar's lifelong interest in Black dolls, with new watercolors, historic assemblages, sketchbooks and a selection of Black dolls from the artist's collection.
This volume features new watercolor works on paper and assemblages by Betye Saar (born 1926) that incorporate the artist's personal collection of Black dolls. These watercolors showcase the artist's experimentation with vivid color and layered techniques, and her new interest in flat shapes. While Saar has previously used painting in her mixed-media collages, this is the first publication to focus on her watercolor works on paper.
"Watercolor is something that children use, so I decided, maybe I'll paint something about children, maybe I'll paint the dolls," Saar says. Referencing the underrepresented history of Black dolls through Saar's artistic lens, this catalog distills several intersecting themes, imagery and objects in Saar's oeuvre, highlighting her prominent usage and reinvention of Black imagery. It contains 90 color images, including early assemblage works that feature Black dolls, such as Gris-Gris Box (1972) and Mti (1973), plus early sketchbooks and a curated selection of Saar's Black doll collection. It also includes original essays by Rachel Federman, Associate Curator of Modern and Contemporary Drawings at the Morgan Library & Museum, and Katherine Jentleson, Merrie and Dan Boone Curator of Folk and Self-Taught Art at the High Museum of Art, and an interview with the artist by her granddaughter, Maddy Inez Leeser.
Care:
Measurements: 1.0" H x 12.2" L x 9.3" W
Fabrication:
---
---
Free shipping on orders over $120
Betye Saar - Black Doll Blues
Shipping
Fast shipping
Your order will be hand-picked, packed and shipped by someone on the LCD team right here in Los Angeles. Orders generally take up to 48 hours to pack up and are shipped out Monday - Fridays.
Order tracking
Once your order has been packed an email will be sent with a tracking number provided. Please note that it sometimes takes our shipping partners several hours (and sometimes more) for your tracking number to reflect recent shipping updates.
Get in touch
If you see any errors in your order confirmation or shipping confirmation emails please contact us right away at +1-310-426-8834 or info@shoplcd.co.
Returns & Exchanges
Returns
We accept returns for full-priced items ordered online that are in unworn, unused and unwashed condition, with all original tags intact, within 10 days of delivery.  Email info@shoplcd.co or use the contact form to the right to coordinate your return.
For additional information about returns eligibility please refer to our Shipping & Returns page.
We are happy to chat with you via telephone or email to confirm fit, materials, sizing and measurements of items.
Exchanges
Please email us at info@shoplcd.co to arrange for an exchange. We will pay for shipping both ways for full price item exchanges occurring within the mainland United States.
All exchanges are final and cannot be further exchanged again.