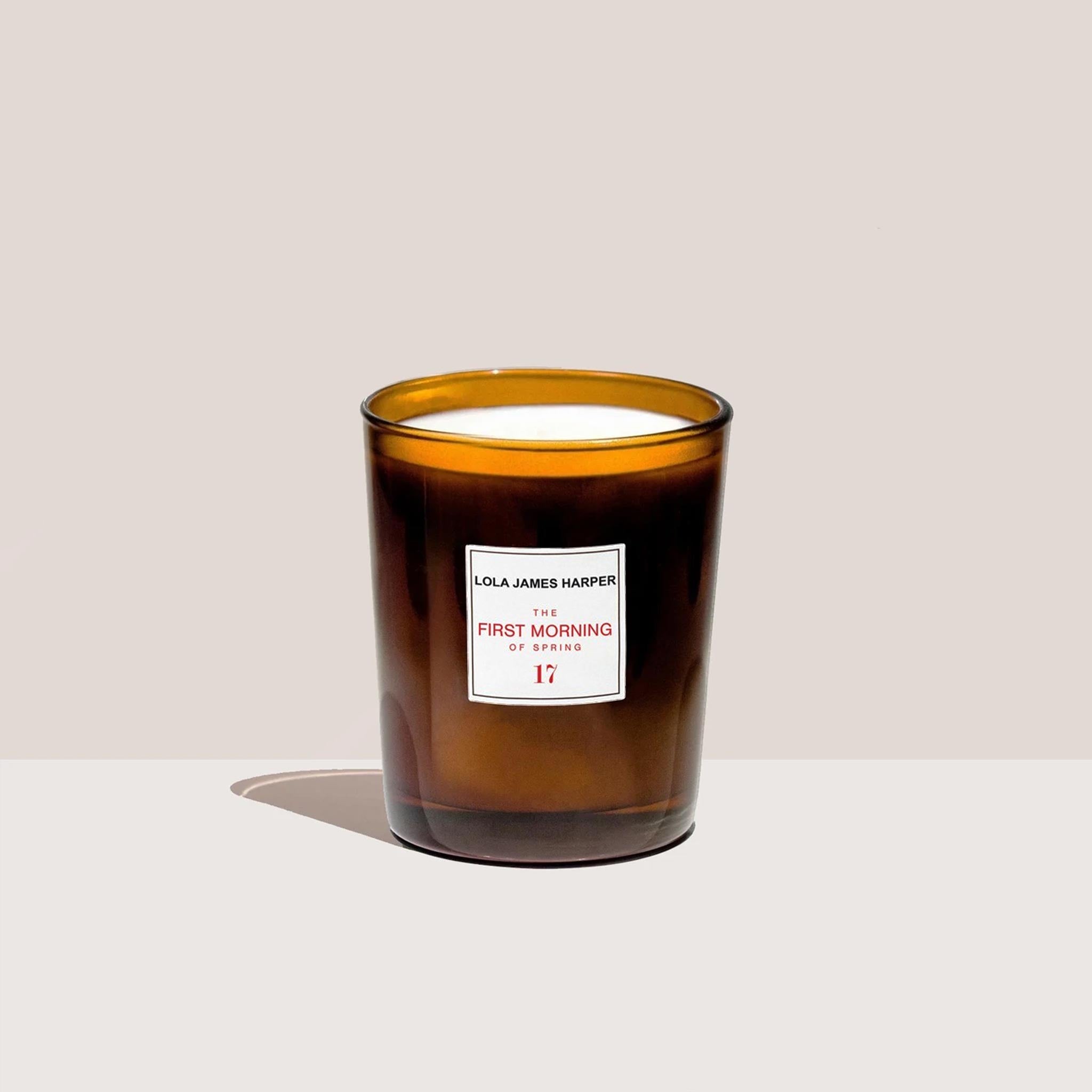 Description

Brand

Info

Sizing
17 The First Morning of Spring. ROSE/CARDAMOME. The first morning of Spring is the first morning of Spring and we know it because suddenly we feel and smell roses in the city...
Natural Ingredients and Origins:
Cardamom - Guatemala
Rose – Turkey
Geranium - Egypt
A candle has that mystical vibe and spreads slowly and gently a scent while the room spray is so fresh and strong but for a few minutes… Combining the two is great… Spraying at first to fill the space with the scent and having the candle holding it for hours...
Scents inspired by travel, music and familial bonds. Lola James Harper is a Parisian line of home and personal fragrances founded in 2013. Each scent is created from a treasured memory, an adored moment like making music in a friend's home or teatime in Barcelona. The brand has established an international following for its slow burning, spiritous candles and feminine eau de toilettes.
DETAILS
Vegetal and mineral wax

Cotton wick

Made in France

190 g / 6.7 oz 
Lola James Harper's fragrances are inspired by founder Rami Mekdachi's memories of favorite places, friends and the creative energy that flowed around them. Each scent evokes not only Rami's personal nostalgia but also our own longing and wistfulness for days gone by. Lola James Harper is a brand born out of passion for art and time, steeped with Rami's deep understanding of just how essential scent can be in kindling our forgotten memories. Crafted in France, these passions have been imbued into candles and fragrances sure to take you back to the the places and times that inspired them.
Care:
Measurements: 190 g / 6.7 oz
Fabrication: Vegetal and mineral wax. No animal derived ingredients, meeting IFRA standards + Washington convention / C.I.T.I.E.S. standards.
Made in France.
---
---
Free shipping on orders over $120
Shipping
Fast shipping
Your order will be hand-picked, packed and shipped by someone on the LCD team right here in Los Angeles. Orders generally take up to 48 hours to pack up and are shipped out Monday - Fridays.
Order tracking
Once your order has been packed an email will be sent with a tracking number provided. Please note that it sometimes takes our shipping partners several hours (and sometimes more) for your tracking number to reflect recent shipping updates.
Get in touch
If you see any errors in your order confirmation or shipping confirmation emails please contact us right away at +1-310-426-8834 or info@shoplcd.co.
Returns & Exchanges
Returns
We accept returns for full-priced items ordered online that are in unworn, unused and unwashed condition, with all original tags intact, within 10 days of delivery.  Email info@shoplcd.co or use the contact form to the right to coordinate your return.
For additional information about returns eligibility please refer to our Shipping & Returns page.
We are happy to chat with you via telephone or email to confirm fit, materials, sizing and measurements of items.
Exchanges
Please email us at info@shoplcd.co to arrange for an exchange. We will pay for shipping both ways for full price item exchanges occurring within the mainland United States.
All exchanges are final and cannot be further exchanged again.